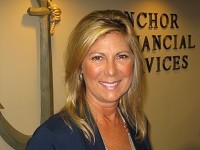 Sheri
Peters
Registered Assistant
Sheri is licensed in insurance and is a Registered Assistant, and is responsible for providing exceptional client support.  She listens carefully to individual client needs, risk tolerance and objectives in order to help develop a personalized financial plan to reach their desired lifestyle and retirement goals.  She offers guidiance to quality products and strategies that will help clients reach their financial objectives.
Sheri assists in the development of comprehensive financial and retirement plans, and marketing.
Sheri holds a Bachelors Degree from the University of Arkansas - Little Rock in Speech Communications.  Sheri also holds a degree in dental hygeine, and practiced for many years, before moving into the financial services field.  
Sheri enjoys gardening, cooking, travel, and being on the water.  She also enjoys traveling with Randy to visit their clients around the country.